This tutorial will show you how to gather the data to monitor competitor PPC data on Amazon for free using the ScrapeHero Cloud. Using the Amazon Search Results Crawler we will be scraping product and pricing information of products such as – Search result rank, Sponsored/Organic result, Frequently bought together, Product name, ASIN, Price,and more.
Here are the steps to monitor competitor PPC data
Create the ScrapeHero Cloud account.
Select the Amazon Search Results Crawler.
Enter the list of input URLs.
Run the scraper and download the data.
The ScrapeHero Cloud has pre-built scrapers that in addition to scraping price data from eCommerce websites can Scrape Real Estate, Scrape Google, Social Media data, Job data, and more. Web scraping using ScrapeHero Cloud is easy as the crawlers are cloud-based and you need not worry about selecting the fields to be scraped nor download any software. The scraper and the data can be accessed from any browser at any time. You can also get the data delivered directly to your Dropbox.
How to scrape sponsored product data from Amazon
The ScrapeHero Cloud Amazon Search Results Crawler is easy to use and can help you gather eCommerce data within minutes. The Amazon Search Results Scraper can scrape the product name, ASIN, price, FBA, sponsored products, best seller rank, description, and 20 more data points from the Amazon Search Results page.
The crawler can also scrape the details of products that advertise inside a product page. In addition, the crawler will let you gather the products in the frequently bought together section of individual products as well.
The ScrapeHero Cloud also has various crawlers to scrape data from Amazon such as the Amazon Product Details, Amazon Bestsellers List, and Amazon Product Reviews and Ratings.
1. Create a ScrapeHero Cloud Account to use Amazon Search Results Crawler
Before using a crawler in ScrapeHero Cloud, an account must be created. To sign up, go to  – https://cloud.scrapehero.com/accounts/login/ and create an account with your email address.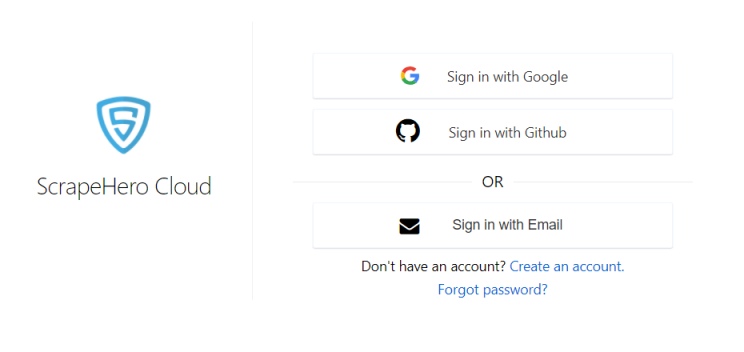 Each account lets you test a regular crawler by allowing you to scrape 25 pages for free before subscribing. Below we have provided a detailed explanation on how to use the Amazon Search Results crawler available in ScrapeHero Cloud.
2. Add the Amazon Search Results Crawler to your account and provided inputs
First, add the Amazon Search Results Crawler to your ScrapeHero Cloud account. To get the input, go to Amazon.com and search for the products you are looking for.
This crawler accepts various types of inputs – category URL or search URL, product name,  GTIN, EAN, UPC, ISBN, Part Number, and keyword.
For this tutorial, we searched for the keyword 'AA batteries' on Amazon.com.
Sponsored Product ads appear in two locations on Amazon – within search results (as shown in image above) and on Amazon product detail pages as part of an ad carousel close to the top of the page. This enables advertisers to promote individual products within Amazon search results and on product detail pages.
You can see that on the listing page if the product is sponsored it will be denoted as 'Sponsored' above the product description.
We will copy the search URL of this page to provide this as input to the Amazon scraper. Here is an example of the search result URL:
https://www.amazon.com/s?k=aa+batteries&crid=1FBOT01OXJK0Z&sprefix=AA+batt%2Caps%2C434&ref=nb_sb_ss_ts-doa-p_1_7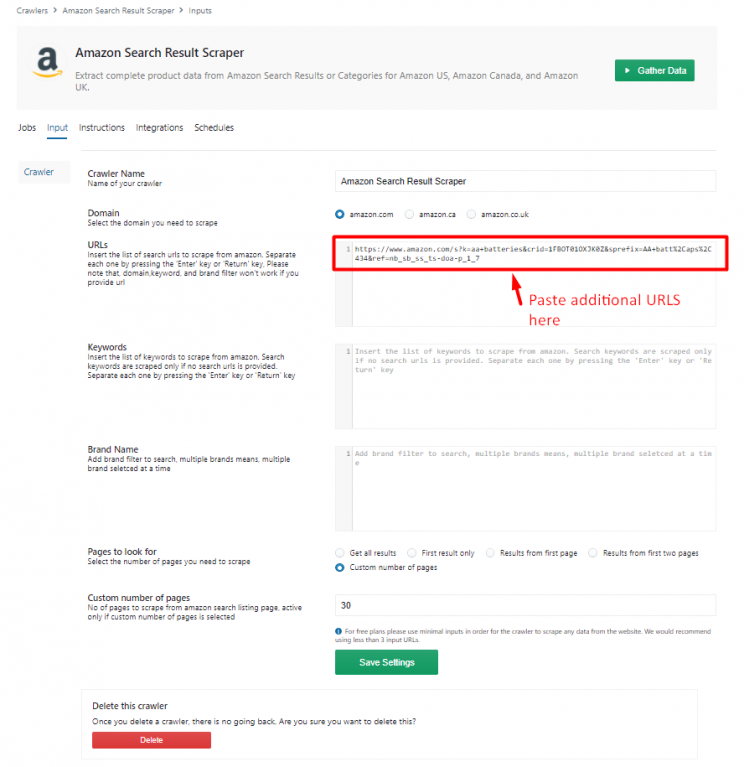 The Amazon Search Results Crawler will accept search result URLs. On the main crawler, page click on the Input tab. You can paste the input URLs with each URL separated by a new line (Press Enter/return key). After entering all the search URLs you can also select the number of pages for the crawler to scrape as shown in the screenshot below.
Note: For this crawler, you have the option of providing search results URLs or search keywords as input.
If you provide a list of search URLs the filters 'brand' and 'domain' will not work.
If you provide a list of search keywords, they will only be scraped if you have provided no search URLs. You can also filter the search by adding a brand or multiple brands at a time.
Run the Amazon Search Results Crawler
After saving the crawlers' input settings, select Gather Data or Start Gathering Data to run the scraper.
Note: The images below show the scraper in Start mode and Run mode. Once in running mode, the scraper can be paused by hitting Stop.  The free version allows you to scrape only 25 pages. You can subscribe to a ScrapeHero Cloud plan to scrape Amazon, starting at only $5 per month.

Download the Amazon Sponsored Product Data
Once the job is completed, you can select View Data and Download Data. The data is available in Excel, CSV, or JSON format.
The example shown below is the scraped Amazon data downloaded in CSV format.
Here you will see a column denoted as 'Is Sponsored'. If a particular brand is advertising their products on the Amazon listing page then this field would be TRUE. You also have the option to schedule the eCommerce scraper to run on a regular interval, allowing you to check for new sponsored products.
Find your competitors PPC ads on Amazon
In the year 2020, Amazon's share of the US digital ad market surpassed 10%. Amazon PPC (Pay-Per-Click) advertising has developed into a powerful marketing channel on Amazon. Running Amazon PPC ads enables sellers and vendors to buy visibility for their products at the top of Amazon's search results page. If you do not have a defined Amazon PPC strategy, it may become difficult to achieve your marketing goals on Amazon. An enterprise-grade data provider such as ScrapeHero will help you receive clean and structured data feeds in your preferred format and get them delivered on a custom schedule. ScrapeHero can also send custom alerts through emails and webhooks whenever new sponsored products come up and when prices of competitor products change.
The ScrapeHero Cloud Amazon Crawler is just one way to extract PPC data. If you need to monitor competitor PPC data from other eCommerce websites, or would like data with more data fields and attributes, ScrapeHero can create a custom data solution for you and help you get started.
We can help with your data or automation needs
Turn the Internet into meaningful, structured and usable data