During the second half of 2020, electric vehicle (EV) registrations rose globally despite the pandemic. The value of the global electric vehicle market grew by $163.01 billion in the same year. Undoubtedly, the adoption of electric vehicles has picked up steam. 
With countries signing the Paris Agreement on climate change, zero-carbon solutions such as electric vehicles are gaining popularity. This, in turn, is creating new business opportunities for early movers. 
Let's see the year-on-year growth in electric vehicle (EV) sales globally.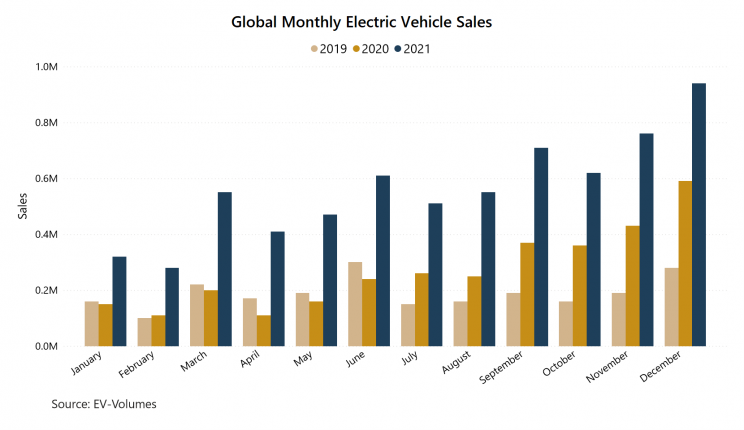 In 2021, nearly 6.5 million electric vehicles – including battery-electric (BEV) and plug-in hybrid (PHEV) passenger cars – were sold worldwide. Because of COVID-19 and other restrictions, global EV sales in 2019 and 2020 were below the long-term trajectory. In 2021, the sales bounced back with a year-on-year growth rate of 109%. 
2022 started with the EV market reaching a share of 10% of the global auto market. While on the subject of the global EV market, let's explore the worldwide geographical split of EV sales.
Incentivization and heavy government intervention have been key to helping the Chinese EV market flourish globally. Europe and the US follow next with a high EV sales spike in 2021. 
According to a report by International Energy Agency, the US represents about 17% of the world's total stock of 10.2 million EVs. Interestingly, with the current goal to head the EV game, the US is doing plenty in this space. 
This article extensively discusses the US EV market.
Key Insights on the EV Market
In 2021, about 6.5 million electric vehicles were sold globally, resulting in a 109% year-on-year increase.

In 2022, California hits the 1 million mark for electric vehicles sold in the US.

Tesla is a pioneer in the US, making up a 14% share in global electric vehicle sales.
Download accurate EV Charging Station location datasets from our Data Store.
What's Happening in the US Electric Vehicle Market?
Keeping up with the ever-changing electric vehicle industry can be challenging. Moreover, the companies launching electric vehicles don't have 100 years of experience as they do with gasoline-powered vehicles. 
However, the US has shown a huge growth trajectory in the last few years. The US EV market has expanded from a few thousand vehicles in 2010 to over 315,000 vehicles sold between 2018 and 2020.
Here's a map showing the state-wise concentration of EV registrations in the US.
The geographic distribution of EV registrations reveals that growth in EV adoption hasn't occurred evenly in all the states. California clearly emerges as the state with the highest number of EV registrations. On that note, let's find out which other states head the EV game in the US.
Top 10 US States Heading the EV Market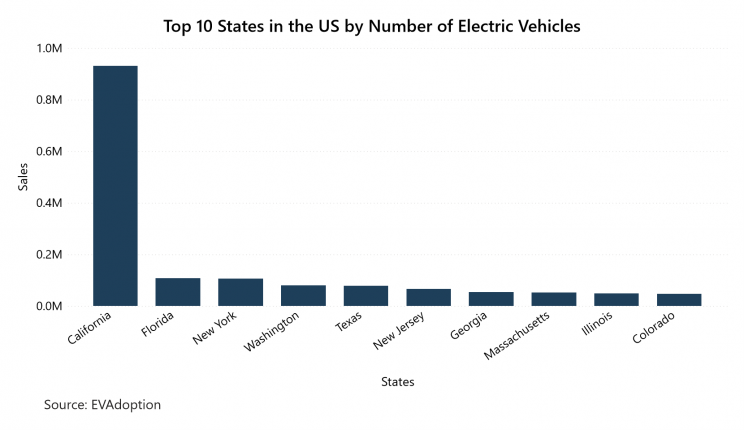 As of September 31, 2021, there are 2,147,070 electric vehicles (BEV and PHEV) in the US. Despite a stark difference in numbers, Florida shows an upward trending market for EVs after California. Florida sold 108,749 EVs while New York stands next with 106,024 EV sales. 
Now let's take a look at a few details of the California EV market. 
California Leading In EV Sales
In 2022, California became the first state to hit one million electric vehicles sold in the US. The state offers drivers plenty of incentives to switch to an EV. This includes federal tax credits, free parking opportunities, rebates, insurance discounts, and much more. 
In California, Los Angeles, San Francisco, and San Diego are the major markets for EVs. Popular automaker brands have started to dominate these markets. Check out their sales figure below: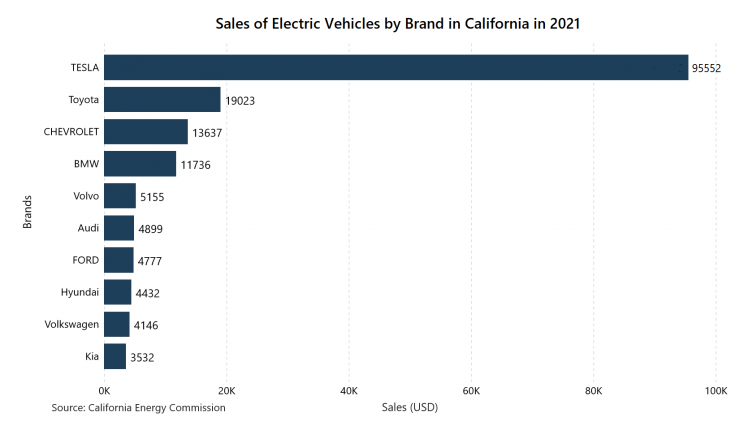 As you can see in the above graph, Tesla leads the EV sales game, followed by Toyota and Chevrolet in California. Tesla has several competitive advantages over others — advanced battery technology, a robust charging infrastructure, a unified computer architecture, and a public image that embodies modernity and innovation. Let's find out how Tesla performed in the US auto market from 2019 to 2021. 
Tesla As The Market Leader
For EVs, the leading battery technology is lithium-based. Accelerating sales of EVs has increased demand for raw materials, thereby skyrocketing the prices of battery materials. 
To meet the regional demand for EVs, the US has only 12 battery mega factories as of now. This is where Tesla enjoys the privilege of manufacturing its own batteries since 2015. As of 2021, Tesla tied up with Panasonic for its car battery building.
As you can see in the graph, Tesla Model 3 sold the most units with a high sales figure of 2,963,90 units. Interestingly, Tesla Model 3 was only recently launched in 2018. Next is Tesla Model 5, followed by Model X. 
To catch up with Tesla's growth, legacy carmakers are also heading into the EV space. Some are even planning on electric medium and heavy-duty vehicles. In 2021, General Motors launched BrightDrop vans, a subsidiary to support sustainability efforts in the delivery and logistics sector. 
As more and more brands switch to clean energy choices, a strong charging infrastructure becomes the need of the hour. In the next section, let's explore the EV charging infrastructure in length.
EV Charging Infrastructure in the US
Did you know every one EVs sold last quarter represents one less internal combustion engine (ICE) car on the road? However, consumers are still concerned about the challenges that come with EVs – charging time, identifying charging locations, and planning charge stops for long trips.
To enhance customer experience, EV charging companies have been lately working on the look and feel of charging stations. On that note, let's check out the public and private EV charging infrastructure in the US.
Between 2015 and 2020, the number of EV charging stations in the US dramatically rose. In 2021, the number of charging stations grew by over 55%. Though the number of electric vehicle supply equipment (EVSE) ports grew consistently, there are fewer than 46000 public EV charging stations in the US. 
To understand charging stations better, let's check out the type of chargers deployed in the US charging stations.
Types Of Chargers
Level 1, Level 2, and DC Fast chargers are the 3 types of EV chargers. 
A full charge for an empty EV battery by Level 1 chargers can take over 24 hours. This happens in residential settings, hence the lack of adequate data.
Level 2 is the most prevalent type of charger in the US and charges an EV in 8 hours or lesser. As of 2021, there are more than 91000 L2 chargers.
Direct Current Fast Chargers (DCFCs) fill an EV battery to 80% in 20-40 minutes. The number of DC fast chargers grew by 24% year on year at the end of 2021. 
Now that you have a better understanding of EV chargers, let's look at the companies with the best charging network performance score.
Charging Network Performance
As you can see, Electrify America scored the highest in the ranking. This was followed by Tesla and ChargePoint. The ranking considered the technical performance of chargers and the charging station environment. While 80% of EV owners charge their car at home, a robust charging network is a prerequisite — making consumers comfortable with the idea of owning an EV.
It is noteworthy that there are existing fuel stations that are also supporting EV charging. Find out more in the next section:
Number of Fuel Stations That Support EV Charging
Until 2010, the US had only less than 1000 electric charging options in fuel stations. In 2021, the number of fuel stations supporting EV charging has increased drastically from 30000 to 50000. This implies an increase of almost 50% of fuel stations supporting EV charging. Interestingly, major oil companies such as BP are taking electrification steps. 
BP recently acquired Amply (EV charging and energy management provider) in the US to enable charging network convenience. 
To sum it up, though there is definitely a lot of noise for the EV segment in the US, consumers are still curious to know more. Automakers and retailers need to reach out to everyday shoppers who are figuring out – incentives, charging, tax credits, residual value, maintenance savings, and more. Let's catch up on what's ahead for EVs.
EVs – An Undeniable Choice For the Near Future?
With the rising oil prices, the pace of EV sales is now evenly picking up across the US. As of March 2022, driving an EV is cheaper per mile than driving a gas-powered vehicle. This has also been the key selling point for most EV makers. Let's check out the chart below:
Gas Prices Vs. Electricity Prices
The US national averages show how gas prices have been on a rise since November 2020. It has touched an average of $14.08 as of February 2022. Whereas, the average electricity price is only $5.14 in 2022.
Not only cost-saving but EVs also comparatively emit lesser CO2 and are environment-friendly. To establish this statement, let's look at the annual CO2 emissions from different types of fuels. 
CO
2
Emissions From Different Types of Fuels
As per the national average, EVs emit the least CO2 equivalent pollutants when compared to gasoline vehicles. In over a year, one electric car on the roads can save an average of 1.5 million grams of CO2. 
Until recently, Tesla was the only choice for those seeking to switch to green cars. With the climate change goals in place, it's no surprise that many big names are looking to compete. 
Are you also planning your entry into the electric vehicle market? Then you would definitely want to invest in reliable POI location data to be on par with your competitors.
Get access to comprehensive and strategic location datasets. Easily download strategic location datasets of top industry players such as Tesla and more from the ScrapeHero Data Store.