Fast-casual dining is a concept between fast food and casual dining. Though they do not offer table service, fast-casual diners serve better quality food compared to most fast food restaurants. They stand out for the healthy, high-calorie menu with ingredients like avocado and nuts while limiting the usage of frozen and processed ingredients.
Even though fast-casual restaurants account for less than 10% of the food industry, their growth rate in this limited span of time is astounding. Over the last 5 years, fast-casual units have grown at a compound annual rate of 7% and fast-casual visits have grown 6%, annually. This growth and consumer shift may be mainly because of the fact that people with higher disposable income would prefer quality, hygienic food rather than fast food.
To compare this growth, we gathered data for the biggest players in the field, such as Panera Bread, Jimmy John's, Qdoba, Chipotle, Buffalo Wild Wings, Captain D's, Moe's Southwest Grill Store, and Wingstop.
Number of stores owned
Jimmy John's has the most number of stores in the country followed by Chipotle and Panera Bread. The chain was launched in 1983 by Jimmy Liautaud, a high-school graduate with just four sandwiches on the menu. In 10 years, they opened 10 locations and expansion across the US followed. In 2002, Jimmy John's had 160 shops. In 2017, the chain was valued at $2 billion and as of 2018 November, they own 2802 stores across the US. In 2016, they sold a majority stake to private equity firm Roark Capital Group, which could mean that the restaurant may soon embark on a global expansion plan.
Revenue and Earnings Across Brands
According to the QSR magazine, Panera Bread fetches the most revenue on our list. Even though the chain has a significantly smaller number of outlets than Chipotle and Jimmy John's, they generated an income of $5.2 billion in 2016. This is almost equal to the combined income of Chipotle and Jimmy John's. It could be said that the brand's branding strategy that targets customer relevance, wellness and personalization has really brought in results. The company has invested in digitalization, enabling ordering online and through apps, even letting buyers customize their taste. Panera Bread is one of the most prominent brands using data gathering to increase relevance and visibility of their products. Panera Bread ranks first in customer satisfaction as well, with a rating of 81, while Chipotle has a rating of 79 according to the American Customer Satisfaction Index(ACSI).
The annual income of Buffalo Wild Wings jumped more than 20% in pre-market trading in 2017, though they missed the Wall Street Projection numbers.
Stores per million people
The stores per million people numbers across the country follow the same pattern as the total number of stores. CaptainD's, the last name on our list, is a fast-casual seafood store which struggled to get a standard consumer base for its peculiar menu. Between 2010-11, the company's sales dropped by about $3 million while they also shut down stores across the country. Around 2014, the chain got a clever makeover. Dropping its rather conventional, dark look, CaptainD's re-branded itself with a 'beachy' vibe. They also refreshed their menu, including more grilled items, fresh vegetables and "cook to order" options. As a result, they witnessed a 225% increase in new store openings since 2015. In 2018, the brand has opened 11 new restaurants and signed 15 franchise agreements to expand in Virginia, Texas, Illinois, Ohio, and Arkansas.
Going by the projections, we expect to see CaptainD's jumping spots very soon.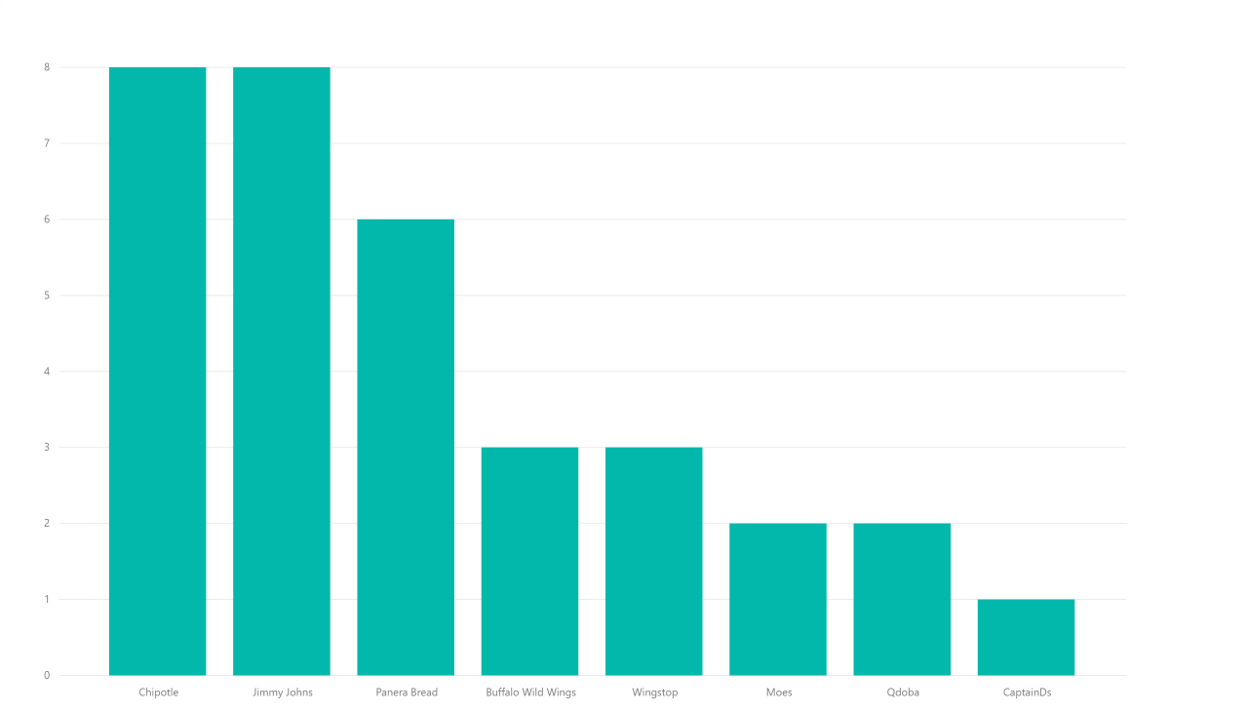 The Battle of Wings
It would be considered sacrilege if one does not go to the nearest Buffalo Wild Wings sports bar on a game night. A great game, a couple of beers and buffalo wings open the door to spicy heaven. Wingstop, a Texas-based chain is catching up in this category. As of now, BWW has more stores (100 more) and generate more revenue (almost double) compared to Wingstop. By keeping things minimalist (they have just 12 flavors) and improving the quality of the wings, Wingstop is slowly swaying the public opinion in their favor. Business Insider had picked Wingstop to be a better choice than BWW based purely on how the wings tasted. BWW, however, plans to start sports betting at their outlets in 2018, after the Supreme Court lifted a federal law restricting legal betting.
Top Fast Casual Locations
Being a growing industry that addresses both the fast food cravings and the need for healthy eating, these restaurant chains are beginning to take up quite a lot of ground space. Most of them are also looking at rapid expansion plans in the soon future. While Buffalo Wild Wings, Chipotle, Jimmy Jones, Panera Bread, Qdoba, and Wingstop are running outlets across the US, CaptainDs and Moes are still limited to the Eastern part of the US.
For the full data on America's fast-casual chains and other valuable data gathered from a variety of websites, contact us using the form below.
We can help with your data or automation needs
Turn the Internet into meaningful, structured and usable data